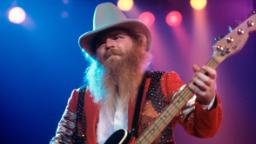 "We are saddened by the news today that our companion, Dusty Hill, has passed away in his sleep at his home in Houston, TX," the statement said from surviving members Frank Beard and Billy Gibbons. "We, and legions of ZZ Top fans around the world, will regret your unwavering presence, your good nature, and your enduring commitment to providing this monumental background to 'Top'."
The group was formed in 1969. Hill joined shortly thereafter, remaining with ZZ Top for over five decades, until his death. Hill performed alongside Beard and Gibbons and together they had a string of hits and released 15 studio albums. Some of their most famous hits include "La Grange", "Tush" and "Gimme All Your Lovin '".
Hill was born in Dallas, and after trying to break into the music scene there, he eventually moved to Houston, where he met Gibbons.
Last week, the band's official website reported that Hill was being sidelined with a "hip problem."
The band's longtime guitar technician, Elwood Francis, replaced Hill.
"At Dusty's request, 'The show must go on!" the group wrote in a statement.
Although Gibbons was the lead vocalist for most of the band's songs, Hill sang "Tush", one of the early hits. The group was inducted into the Rock & Roll Hall of Fame in 2004.
You may have even seen him onscreen in various appearances such as "Back to the Future Part III" and "Deadwood".
"We will miss you very much, amigo," added the statement from Beard and Gibbons.
You Can Read Also