[ad_1]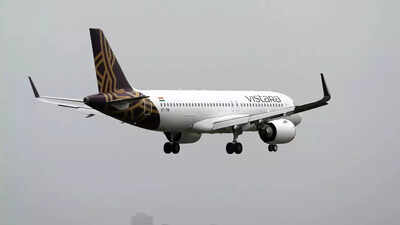 NEW DELHI: A Vistara Varanasi-Mumbai flight on Friday was hit by a bird during takeoff. The plane returned safe and sound to the airport of origin.
The radome of the Airbus A320 (VT-TNC) was damaged and the plane was grounded in Varanasi, officials from the Directorate General of Civil Aviation (DGCA) said.
This is at least the second bird affected in as many days.
GoFirst's Ahmedabad-Chandigarh flight on Thursday safely returned to origin shortly after takeoff following a bird strike. There was a suspected bird hit on engine number 1 and the aircraft operating as G8-911 had returned to Ahmedabad.
Airline officials say such cases increase during the monsoon as waterlogged ground forces the worms to the surface, attracting more birds than usual.
Following a few bird strikes this monsoon, the DGCA had asked airport operators on June 20 to take immediate measures to minimize this risk.
The incidence of bird strikes increases during the rainy season as waterlogged ground sends worms and insects to the surface, attracting birds even more than garbage and slaughterhouses do in the path of approaching aircraft and near airports.
"We are all aware that during the monsoon season, wildlife (birds and animals) activity increases in and around airports. The presence of wild animals near the airport poses a serious threat to the operational safety of aircraft. All airports are urged to review their wildlife hazard management plan for any deficiencies and ensure strict implementation of wildlife hazard management strategies inside and outside the airfield," said DGCA Joint CEO Maneesh Kumar in a letter to all airport operators and airport managers. .
Within the airport, measures to be taken include: "cutting grass and spraying insecticides; frequent inspection of trails for ornithological activities; deployment of bird catchers and bird scaring devices; Regular disposal of garbage in the operational area and avoiding water concentration and open sewers.
To tackle the problem outside the airport premises, Kumar says, "Airport Environmental Management Committee (AMC) meetings (should) be convened to discuss and review the implementation implement measures to reduce the bird hazard. Frequent inspection by the Airport Wildlife Risk Management/AMC team to identify sources of attraction for wildlife such as garbage dumps, open waste disposal of slaughterhouses/butcheries and coordination with local authorities to mitigate sources of wildlife attraction.
Airport operators have been asked to send an action report to the DGCA.
The Aircraft Act of 1934 specifically prohibits the killing or skinning of animals or the dumping of garbage in a way that might attract animals and birds within 10 km of airports.
"Such activity is a prosecutable offense under Section 10(1B) of the Aircraft Act 1934 … Aerodrome Environmental Management Committees at airports (which are headed by Chief Secretaries) should take proactive action within a specified time frame to ensure that no illegal activities of slaughterhouses, dumps exist near airports.(these) are causing increased activity of birds and can lead to wildlife strikes on aircraft during approach/take-off," the DGCA told states a few years ago.
FOLLOW US ON SOCIAL NETWORKS
FacebookTwitterinstagramKOO APPYOUTUBE


[ad_2]
You Can Read Also