LES CAYES, Haiti – Rescuers and scrap collectors dug the floor of a collapsed hotel Monday in the earthquake-ravaged coastal town, where 15 bodies had already been extracted. Jean Moise Fortunè, whose brother, the owner of the hotel, was killed in the earthquake, estimated that there were more people trapped in the rubble.
But based on the size of the voids workers cautiously peered into, perhaps a foot (0.3 meters) deep, finding survivors seemed unlikely.
The quake, centered about 125 kilometers (80 miles) west of the capital Port-au-Prince, killed at least 1,419 people, nearly razing some towns and triggering landslides that hampered rescue efforts in a country that is the poorest in the western hemisphere. . Haiti was already grappling with the coronavirus pandemic, gang violence, worsening poverty and political uncertainty following the assassination of President Jovenel Moïse on July 7 when the earthquake struck on Saturday.
The Caribbean nation's civil protection agency also raised the number of injured to 6,000 on Monday. And the devastation could soon worsen with the arrival of tropical depression Grace, which is expected to reach Haiti on Monday evening with strong winds. , heavy rains, mudslides and flash floods. Rainfall could reach 15 inches (38 centimeters) in some areas, the agency said.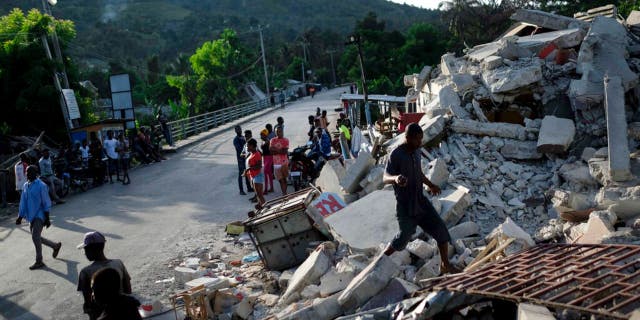 "We are now working to ensure that the resources we have will go to the places most affected," said agency director Jerry Chandler, referring to the provinces of Cayes, Jeremie and Nippe, which are in the game. southwest of the country.
As work, fuel and money ran out, desperate residents of Les Cayes searched collapsed homes for scrap metal to sell. Others were waiting for money transferred from abroad, one of the pillars of the Haitian economy even before the earthquake.
Anthony Emile stood in line for six hours with dozens of other people trying to get money his brother had wired from Chile, where he has been working since the last earthquake in Haiti.
TROPICAL STORM FRED LANDS IN FLORIDA: THIS IS WHERE IT IS GOING
"We've been waiting for him since morning, but it's too crowded," said Emile, a banana farmer who said relatives in the countryside depended on him to give them money to survive.
Wounded from the earthquake continued to flow to the overwhelmed general hospital in Les Cayes, three days after the earthquake. Patients waited for treatment on the stairs, in the hallways and on the open veranda of the hospital.
"After two days they are almost always usually infected," said Dr Paurus Michelete, who had treated 250 patients and was one of three doctors on call when the earthquake struck.
The 7.2 magnitude earthquake displaced thousands of people from destroyed or damaged homes. Les Cayes was darkened by intermittent blackouts, and many people slept outside, holding transistor radios tuned to the news, terrified of the lingering aftershocks.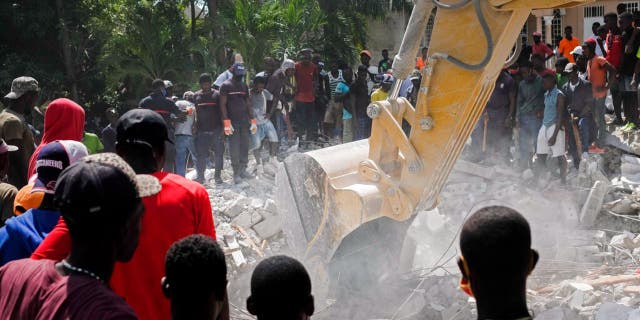 Efforts to treat the injured have been difficult at the hospital, where Michelete said pain relievers, pain relievers and steel pins to mend fractures were running out amid crushing patients.
"We are saturated and people keep coming," he said.
Josil Eliophane, 84, crouched down on the steps of the hospital, holding an x-ray showing his broken arm bone and pleading for pain relievers.
EARTHQUAKE IN HAITITI: TROPICAL LOW THROUGH CONCERN FOR RECOVERY EFFORTS WITH HEAVY RAINFALL FORECAST
Michelete said he would give one of his few remaining blows to Eliophane, who fled his home when the earthquake struck, only to have a wall fall on him.
Nearby, on the hospital's open-air veranda, patients were on beds and mattresses, connected to IV bags of saline fluid. Others lay in the garden under sheets drawn up to protect them from the harsh sun. None of the patients or loved ones caring for them wore face masks amid a wave of coronavirus.
Authorities said more than 7,000 homes were destroyed and nearly 5,000 damaged by the earthquake, leaving some 30,000 families homeless. Hospitals, schools, offices and churches were also destroyed or badly damaged.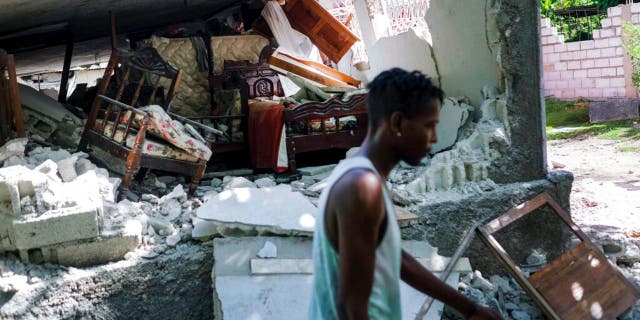 Highlighting the dire conditions, local authorities had to negotiate with gangs in the seaside district of Martissant to allow two humanitarian convoys a day to pass through the region, the United Nations Office for the Coordination of Humanitarian Affairs reported. The agency called Haiti's southern peninsula a "hot spot for gang violence," where aid workers have been repeatedly attacked.
The agency said the area was "virtually inaccessible" for the past two months due to roadblocks and security concerns. Agency spokeswoman Anna Jefferys said the first convoy passed Sunday with government and UN personnel. and the United Nations World Food Program plans to send food by truck on Tuesday.
Prime Minister Ariel Henry declared a month-long state of emergency for the whole country and said the first government aid convoys had started delivering aid to areas where cities have been destroyed and hospitals overwhelmed.
EXPLAINER: WHY HAITITI IS CONDUCTED TO DEVASTING EARTHQUAKES
UNICEF Executive Director Henrietta Fore said humanitarian needs were acute, with many Haitians in urgent need of health care, clean water and shelter. Children separated from their parents also needed protection, she said.
"A little over a decade later, Haiti is in shock again," said Fore, referring to the 2010 earthquake that devastated the Haitian capital, killing tens of thousands. "And this disaster coincides with political instability, rising gang violence, alarming rates of child malnutrition and the COVID-19 pandemic – for which Haiti has only received 500,000 doses of vaccine, well that he needs a lot more. "
The country of 11 million people only received its first batch of coronavirus vaccines donated by the United States last month through a United Nations low-income country program.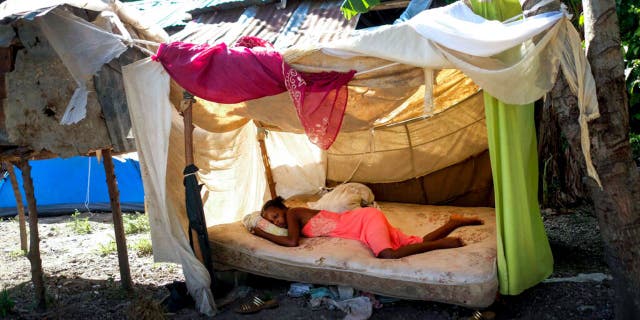 Medical workers from across the region rushed to help as hospitals in Les Cayes began to run out of space to perform surgeries.
"Basically, they need everything," said Dr. Inobert Pierre, a pediatrician at the nonprofit Health Equity International, which oversees St. Boniface Hospital, about two hours from Les Cayes.
Pierre's medical team would take patients to Saint-Boniface for surgery, but with only two ambulances, they could only transport four at a time.
Working with USAID, the US Coast Guard said a helicopter was transporting medical personnel from the Haitian capital to the quake zone and evacuating the wounded to Port-au-Prince. Lt. Commander Jason Nieman, a spokesperson, said more planes and ships were being sent.
CLICK HERE TO GET THE FOX NEWS APP
At Les Cayes hospital, Emma Cadet, 41, wife of a carpenter, hovered over her 18-year-old son Charles Owen as he waited for an operation on his broken arm. He was one of the lucky patients to receive pain medication.
The worst was Nerison Friday, 19, lying calm but alert. No cast or splint would help her as she had apparently suffered internal injuries and could not move.
There were a few miraculous survival stories, but they were getting fewer and fewer as the days went by.
Jacquelion Luxama was leading his goats to a waterhole on Saturday when a hill collapsed on top of him, trapping him amid rocks and a landslide that ripped the skin off his hip.
"I started screaming, and luckily other farmers heard me, and they came to get me out of there," said Luxama, lying on a mattress at Les Cayes hospital.
You Can Read Also