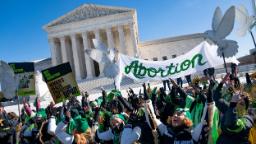 A reversal of Roe v. Wade would leave abortion policy to individual states and likely produce a patchwork system where the procedure would remain widely available in Democratic-led states, while Republican-led states would adopt extreme limits or outright bans.
Here's how some governors reacted to Politico's release of what it called a draft majority opinion authored by Judge Samuel Alito that would strike down Roe v. Wade.
Republican Governor Kristi Noem, North Dakota:
Democratic Governor Jay Inslee, Washington:
Republican Governor Chris Sununu, New Hampshire:
"As a pro-choice governor, I am committed to upholding Roe v. Wade, which is why I'm proud of the bipartisan bill headed to my office this year that expands access. As long as I am governor, these health care services for women will remain safe and legal.
Democratic Governor Tim Walz, Minnesota:
Republican Governor Kay Ivey, Alabama:
Democratic Governor Kathy Hochul, New York:
"I am horrified by the apparent draft Supreme Court opinion released tonight that would overturn the abortion rights guaranteed by Roe vs. Wade. For the sake of women across the country, this should not be the Supreme Court's final opinion on abortion rights."
"We have been fighting this battle for too long. I refuse to back down. I refuse to let my new granddaughter fight for the rights that generations have fought and won, rights that should be guaranteed to her."
"For anyone who needs access to care, our state will welcome you with open arms. New York will always be a place where the right to abortion is protected and where abortion is safe and accessible. Just like the Statue of Liberty raises her lamp high in our harbor, New York will never stop standing up for what is right – fearless and undeterred."
Republican Governor Asa Hutchinson, Arkansas:
You Can Read Also