[ad_1]

Sinn Fein is set to become the first nationalist party to take control of the Northern Ireland Assembly in its 101-year history.
The party has 27 seats, pushing the Democratic Unionist Party (DUP), which has 24, into second place.
The maximum number of seats the DUP can return with is 25.
Michelle O'Neill, the party's vice president, is now set to become the country's first nationalist prime minister.
Voters flocked to the polls to elect 90 new members of the Legislative Assembly, with Sinn Fein winning the lion's share of seats.
Speaking earlier today during her declaration speech at Magherafelt, Ms O'Neill said: 'Today represents a very significant moment of change.'
Scottish First Minister Nicola Sturgeon was among those who congratulated Sinn Fein leader Mary Lou McDonald and Ms O'Neill on a "truly historic victory".
The DUP lost support from trade unionists due to its response to Brexit and the trade deals over Northern Ireland, which caused votes to split between the country's three Unionist parties.
East Stormont dependent on power sharing between the nationalist parties (those who want Irish unity) and the unionists (those who want Northern Ireland to remain part of the UK) and the DUP has previously indicated that it may boycott the government, rather than to see a nationalist prime minister.
Previously Stormont's largest party, the DUP resigned as Prime Minister in February to protest against the Northern Ireland Protocol.
Due to power-sharing rules, this decision also forced Ms O'Neill to resign.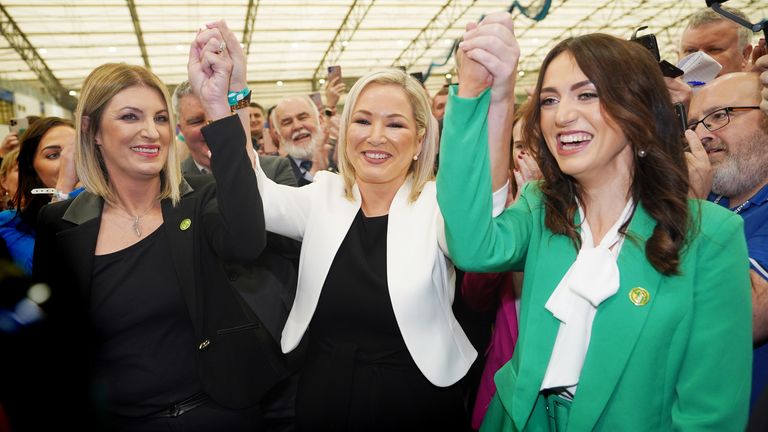 DUP MP Ian Paisley has said there will be no devolved government in Northern Ireland as issues around the Northern Ireland Protocol remain unresolved.
Speaking at an election count center in Jordanstown on Friday, Mr Paisley said: "I think the elephant in the room is protocol.
Read more:
What is power sharing in Northern Ireland?
"Until we fix this problem, we can have the elections we want, but there will be no government until we solve this protocol problem.
"I hope that today will be a priority for the government that they now have to solve this problem, not only for trade unionists but for everyone. The protocol hurts us all.
[ad_2]
You Can Read Also