[ad_1]

NEW DELHI: Quality of education, cost of living, scholarships, job opportunities and security are some of the main considerations for Indian students to study abroad.
According to a new report from QS Quacquarelli Symonds (QS), which surveyed 1,10,306 prospective international students, the biggest consideration among Indian aspirants (74%) is the cost of living, followed by getting a job ( 60%) and the availability of scholarships (60%). Indian students also expect universities to provide information on internships and industry links, teaching staff experience and qualifications, as well as facilitate connections with existing international students.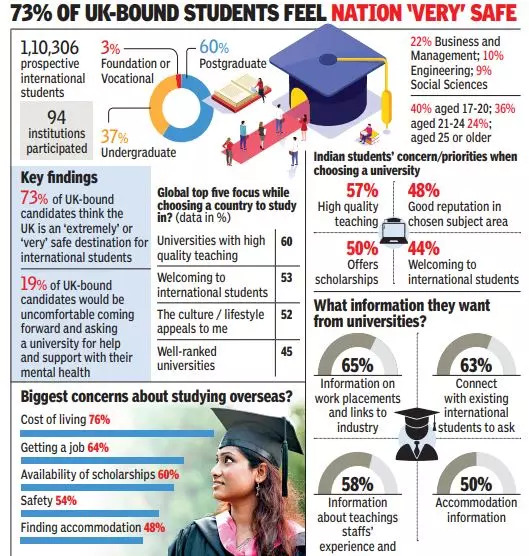 Congratulations!
You have successfully voted
The 2022 International Student Survey (ISS) recommends that institutions tailor their recruitment strategies by providing information on the priorities, concerns and needs of prospective students located in a diverse set of key markets identified by the government in the IES, notably China, India and Vietnam. , Nigeria and Saudi Arabia.
The data is based on responses from over 1,10,000 prospective international students from 194 countries and territories around the world, of whom over 63,000 said they wanted to study in the UK. The report suggests UK universities take a tailored approach to recruiting students from different target markets to support the success of the country's International Education Strategy (IES).
Overall, the report found that for prospective students from China and Saudi Arabia, safety was cited as the top concern about studying abroad. Meanwhile, candidates from India, Vietnam and Nigeria have listed the cost of living as their top concern. For Chinese, Indian and Saudi students, the most important priority when choosing a university was providing a high quality education, for Nigerian students it was a welcoming study destination and for Vietnamese students, it was the offer of a scholarship.
The report also indicates that almost 16% of applicants would like to stay for three to six years after completing their course, while 13% expressed their intention to stay permanently in the country they are studying.
Vivienne Stern, Director of Universities UK International, said: "This year's survey shows that we as an industry can do more to attract students from these countries of origin outside the EU. We must recognize and remove the barriers faced by international students considering studying in the UK – from delays in processing their study visa to restrictions on international travel in their home country. It is essential that the UK higher education sector continues to appreciate the diverse nature of admitting international students each year, striving to meet the individual needs of each prospective student.



[ad_2]
You Can Read Also