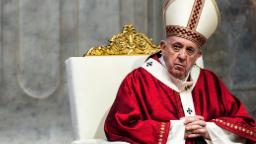 "The Holy Father reacted well to the operation performed under general anesthesia," spokesman Matteo Bruni said in a written statement.
The 84-year-old pontiff underwent surgery at Gemelli Hospital in Rome earlier today, hours after performing the traditional Angelus Sunday prayer in St. Peter's Square.
According to a statement from the Holy See's communications office, the procedure was "a scheduled surgery for symptomatic stenotic diverticulitis."
Diverticulitis is inflammation caused by the development of small sacs in the walls of the colon.
The bags or pockets are called diverticula. It is usually asymptomatic, but can cause discomfort and sometimes bleeding.
It's a common condition that affects more than half of adults in the United States, according to the United States National Institutes of Health, and is more common as people age.
Italian President Sergio Mattarella wished Pope Francis a speedy recovery, in a message shared on Sunday on the presidency's website.
"Speaking on behalf of all Italians and myself, we wish to extend to Your Holiness our warmest greetings and our most cordial wishes for a good recovery and speedy recovery," said the message to Pope Francis.
You Can Read Also