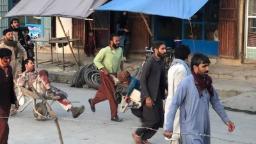 President Biden's agenda has been shattered by the attacks on Thursday near Kabul airport.
"There will be updates to the president's schedule, which we will share as they become available," the White House said in a statement Thursday afternoon.
Biden was meeting in the situation room with senior national security officials, including Secretary of State Antony Blinken, Secretary of Defense Lloyd Austin and Chairman of the Joint Chiefs of Staff Gen. Mark Milley, when l he attack took place. CNN observed Blinken, Austin, and Milley arrive in the West Wing early at 9 a.m. ET and the meeting was scheduled to begin at 9:15 a.m. Vice President Kamala Harris attended the meeting virtually aboard Air Force Two as 'she was traveling from Vietnam to Guam and the field commanders were also present virtually, according to the White House.
CNN reported the first explosion outside Kabul airport at 9.40am ET.
It wasn't immediately clear when the meeting ended, but as CNN's Phil Mattingly reported, Biden and his assistants remained in the Situation Room for some time as events unfolded. were taking place.
Biden, according to the White House, "will continue to be informed of updates on developments throughout the day."
The remaining events on the official White House daily guidelines for Thursday have been postponed or canceled indefinitely.
A 10:30 a.m. briefing with Biden's Covid-19 response team was postponed to 10:45 a.m. and then postponed indefinitely, a White House official told people connected to Zoom that "due to global circumstances" the briefing was "delayed for a time to be determined."
A midday press briefing with press secretary Jen Psaki was also "delayed".
Biden was due to meet with new Israeli Prime Minister Naftali Bennett at 11:30 a.m. This meeting has been postponed to a time to be determined. At around noon Thursday, the group of reporters traveling with Bennett returned to their hotel.
And a meeting between Biden and a bipartisan group of governors on Afghan refugee resettlement scheduled for 3 p.m. has been called off.
At 12:15 p.m., CNN's Kaitlan Collins reported that Biden was in the Oval Office.
You Can Read Also