[ad_1]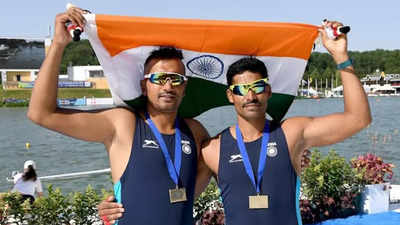 Kuldeep Singh (left) and Narayana Konganapalle. (Photo credit: World Rowing)
PUNE: Narayana Konganapalle and Kuldeep Singh have established a partnership like no other.
Both para-oars had lost their legs in a landmine explosion at the same location, Nowshera in Jammu and Kashmir, in identical circumstances two years apart.
On Saturday, five years after hitting their combination, they clinched their third international bronze medal – in the PR3 men's duet event at the Rowing World Cup 2 in Poznan, Poland.
Narayana and Kuldeep finished in 7 minutes 33.35 seconds behind France Jerome Hamelin and Laurent Cadet (6:52.08) and Andrii Sayvykh & Dmytro Herez from Ukraine (7:29.20).
The pair had won their first bronze medal at the same venue in 2019 and their second later that year at the Asian Para Rowing Championships in South Korea.
"I am very proud to have won bronze for the country. I have to thank the federation, SAI and the Army Rowing Node," said Narayana of Andhra, who is with the Indian Army's Madras Engineer Group.
Kuldeep, of 2 Jat Regiment, was equally thrilled.
"The phone hasn't stopped ringing," said the 30-something from Haryana.
The common thread running through their lives is remarkable.
Both come from farming families and they are the only ones in their family to join the armed forces.
Kuldeep, who had won volleyball gold at sub-junior and junior level for Haryana, joined the army on a sports quota in 2010.
Narayana, three years his teammate's senior, played kabaddi and football during his school days and won district-level gold medals in kabaddi. He joined the Services in 2007.
Both remember their fateful days with clarity. While Kuldeep was injured in 2013, Narayana was injured in 2015.
"I was part of the team sent for an operation in the front area. We had crossed the fence and were coming back when I stepped on the landmine," Narayana said.
He had married a year earlier.
Kuldeep remembers the date and time. "It was June 12 (2013), 12:15 p.m.," he said.
Needless to say, the next two years were as tough mentally as they were physically.
"I thought I was going to be like this forever," Kuldeep said, referring to the early days of struggling to even walk.
Both were sent to the Artificial Limb Center in Pune, where they were fitted with prostheses. Then, at the suggestion of Lt. Col. Gaurav Dutta, the country's most famous para-athlete who himself had lost his left foot in the same way, they took up para-athletics.
Narayana said, "When I came to Pune and saw other people with similar disabilities but competing in sports, I started to regain my confidence."
"He (Narayana) told me 'if I can walk, you can run'," said Kuldeep, who was released by his regiment a little later.
Again, the pair excelled at javelin throwing before Dutta, given their size and build, advised them to switch to rowing.
"At that time in 2017, para-rowing was introduced in India, so the federation was looking for athletes with the right physique," ​​said Narayana, who has a boy and a girl.
"We also had trouble racing because we couldn't get suitable racing blades," Kuldeep said.
Whatever the reasons, it has resulted in a successful partnership for the country.
They could have participated in their first Olympic Games in Tokyo last year, but circumstances did not allow it.
"We don't have the men's pair in the Paralympic Games, only the mixed four. But we don't have any rowers who meet the criteria," Narayana said.
FOLLOW US ON SOCIAL NETWORKS
FacebookTwitterinstagramKOO APPYOUTUBE


[ad_2]
You Can Read Also