[ad_1]

Hundreds of Palestinians protested against President Mahmoud Abbas after Friday prayers at the Al-Aqsa Mosque in Jerusalem, a day after the death of a vocal critic while in detention by Palestinian security forces.
Nizar Banat had severely criticized the Palestinian Authority for its corruption and mismanagement in a series of Facebook videos. His family said security forces raided the house where he was staying early Thursday and beat him with batons before dragging him away.
Palestinians also chanted against the Palestinian Authority during its funeral in Hebron, in the Israeli-occupied West Bank, and masked gunmen fired into the air.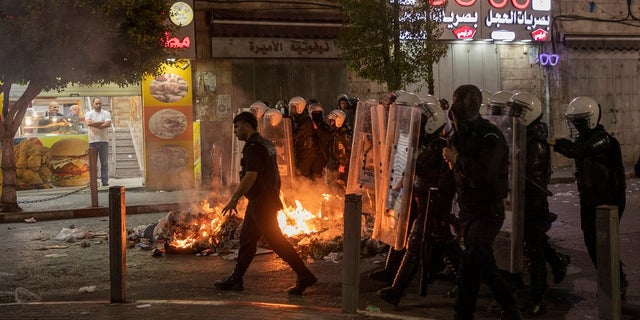 OVER 200 PALESTINIANS INJURED IN AFFRONSEMENTS IN AL-AQSA WITH THE POLICE
Calls to demonstrate had circulated throughout the country. Late Thursday, protesters burned tires, blocked roads and clashed with riot police in the West Bank city of Ramallah, where the PA headquarters are located.
The Palestinian Authority, which administers parts of the West Bank under deals made with Israel in the 1990s, faces a major crisis of legitimacy after Abbas overturned the first elections in 15 years in April. Abbas was sidelined during the Gaza war last month, and his popularity has plummeted as support for the militant Hamas leadership in Gaza has grown.
Its forces coordinate security with Israeli troops, targeting Hamas and other armed groups that threaten both. This policy is deeply unpopular with the Palestinians, many of whom see it as collaboration with an occupying power.
"From the police to the president, all authority is collaborator," chanted a crowd of about 250 demonstrators in Al-Aqsa after Friday prayers, under the gaze of thousands of worshipers. The hilltop enclosure is the third holiest site in Islam and a powerful symbol of the Palestinian cause.
It is also the holiest site for the Jews, who call it the Temple Mount because it was the location of the Biblical temples. It has long been the scene of Israeli-Palestinian violence, including in the run-up to the war in Gaza.
The US State Department and the European Union Representative to the Palestinians each called for an investigation into Banat's death and expressed concerns over the PA's restrictions on free speech and harassment activists.
CLICK HERE TO GET THE FOX NEWS APP
The Palestinian Authority said it has formed a high-level committee to investigate Banat's death.
The EU has provided hundreds of millions of dollars in aid to the Palestinian Authority over the years, and the US and other nations have trained and equipped its security forces. The Palestinian Authority is viewed internationally as a key partner in efforts to relaunch the Middle East peace process, which stalled more than a decade ago.
[ad_2]
You Can Read Also