[ad_1]

Line of Duty star Martin Compston has denied singing a song about the IRA at a rally of Celtic supporters in Las Vegas.
Compston, who lives in the Nevada town with his family, was filmed performing at an event hosted by the North American Celtic Supporters Federation (NACSF).
In a video shared widely on social media, the crowd chants about the "Irish Republican Army", adding: "It's the I, I, I, IRA."
As they sing "IRA", Compston is seen seemingly raising his left arm in the air.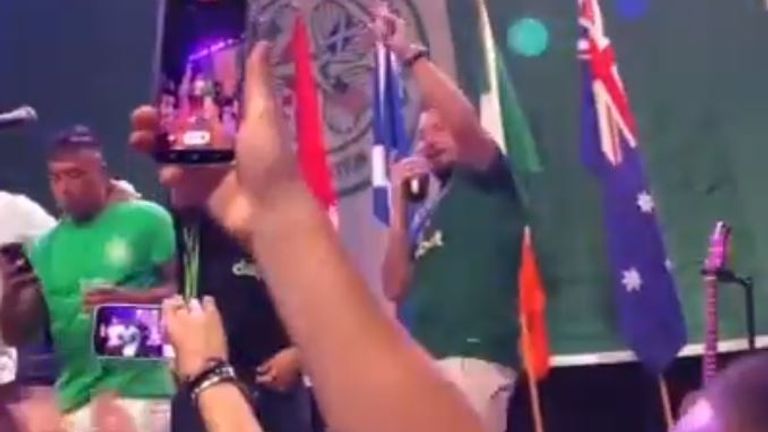 In a statement, the 38-year-old Scotsman, who plays Steve Arnott in the crime drama, said he "unequivocally did NOT sing ANY bigoted songs".
He added: "I've worked too long in Belfast (where Line of Duty is filmed) to see the damage done to think this stuff is fun."
Compston also referenced Daniel Boone's 1972 hit song Beautiful Sunday, which is played frequently at Celtic Park.
He said: "If it was an IRA song and I was on stage dancing I would understand the story.
"But I'm pretty sure Daniel Boone had nothing more than Beautiful Sundays in mind when he wrote the song and that's what I was singing."
Dave Scott, director of anti-sectarian charity Nil by Mouth, told the Scottish Sun it was a "pretty depressing sight".
He added: "Those involved in IRA chanting need to take a long look at themselves in the mirror. They are adults – not children who might not know better.
"Worst? Children and young people might see this and now think it's perfectly acceptable behavior."
There were scathing comments on social media. One person said it was "sickening", while another said it was "totally unacceptable".
[ad_2]
You Can Read Also