[ad_1]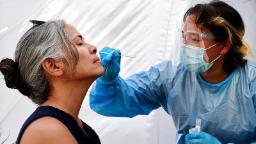 Dr Francis Collins, director of the National Institutes of Health, said there is currently no evidence that the United States needs to move forward with booster shots, although that is something which is examined almost daily.
"Well, we certainly look at it almost daily," Collins said on ABC's Good Morning America Monday when asked if the need for booster shots is inevitable in the United States. "As you have heard, the FDA is overseeing this and the data is being collected both in the United States and from what we have learned from places like Israel and the United Kingdom."
"I would say that at this moment there is no evidence that we need to move forward with boosters in the United States, but that is an ongoing debate," he said. "Let me just be clear, however, that in fact existing approved vaccines in the US, Pfizer, Moderna, J&J, have high efficacy against Delta. There's no reason to rush a recall decision right now, but we'll be looking at this day in and day out.
When asked what the harm is in moving forward, Collins said they just wanted to do what would be most helpful for people and also recognized that there was a global vaccine shortage and that countries were still desperately seeking access.
"If the United States, with its large population, decides that we need a whole different group of vaccines for our country, that means they can't go anywhere else," he said. "We will if that is what is necessary to protect Americans. At the moment, however, the data does not convince us that it is time to move forward.
[ad_2]
You Can Read Also