Florence, Italy – The Renaissance city of Florence is proud of its heritage but not only proud. Those responsible for the lighting of this scenic city keep another tradition: manually turning on streetlights every evening. It's the only city in Italy that does it that way.
"We want to turn them on at the exact moment we feel the need for artificial light," explains Matteo Casanovi, president of Silfi, the company that manages the lighting systems in Florence. "And we can also save a few euros each year," he adds.
Three squads watch the sky and the shadows every day. They have a few minutes of wiggle room each night to adjust the timing for cloud cover and a host of other variables. When a severe storm hit Florence a few years ago, they made an exception and turned on lights much earlier than usual to give citizens a sense of comfort.
ANOTHER ITALIAN CITY SELLING HOUSES FOR $ 1
Silfi's headquarters is both an archive and a working desk, with a display of light bulbs through the ages and the old standard that was once housed in Palazzo Vecchio to turn on the lights of Florence in a sort of effect domino.
The "mascot", a 19th century floor lamp, originally a gas lamp, rises in the center of a spiral staircase. There is an electric cable pierced with a shard of glass collected at the scene of a bomb attack in front of the Uffizi galleries, carried out by the mafia in 1993.
The place is full of people who live for the light.
"I'm lucky because I was born to a father who worked with lamps and I continued to work in this sector for the most beautiful city in the world. If you don't put passion into it, you don't do it with love, "says Technical Director Antonio Pasqua. "There is no textbook that teaches you to illuminate with love, it comes from within." He calls Florence the "living room" of Italy – it must be warm and welcoming.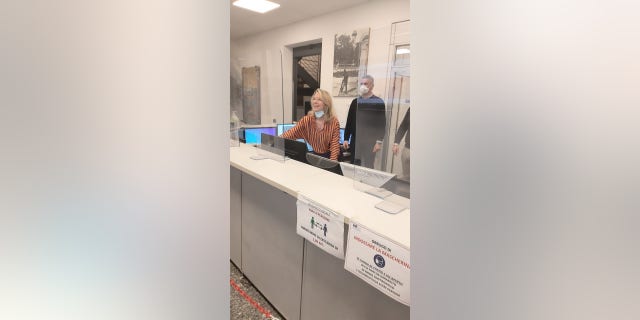 I was invited to flip the switch on a recent party and it sounds like an honor akin to ringing the New York Stock Exchange bell.
REPORTER'S NOTEBOOK: FROM ABROAD, CAPITOL ASSAULT FEELS LIKE ANOTHER 9/11
In fact, you turn a key at Silfi's reception after the light assessment field teams have agreed and called headquarters. Now!
And then the lampposts of Florence.
It's not enough to choose the right time to light up the city. It's about embracing green technologies, budgets and safety for residents, pedestrians and bikers. One watt here, one watt over there makes the difference. They see it as taking care of people.
"The most important word in our work is 'service'," says General Manager Manuela Gniuli. "Give citizens and tourists what they deserve."
CLICK HERE TO GET THE FOX NEWS APP
Although traditionalists, the people who light up Florence are enthusiastic about LED lights, which they believe save them millions and provide better illumination at the same time. They have not yet completed this change. It's not just neighborhoods and streets, of course. These are monuments that need to be rekindled with just the right amount of shine to send a message, Pasqua says.
"Even half a watt to give a signal to a passing person… look, there's a symbol for you. Admire that. For us it's a challenge."
You Can Read Also