[ad_1]

India's new Covid-19 cases in the week ending Sunday hit their highest level in nearly four months with nearly 80,000 new infections, up 62% from the previous week's tally.
Although deaths from the virus remained very low compared to previous outbreaks, at least 93 deaths were reported in the country during the week, more than the combined toll of the previous two weeks (45 and 41).
India recorded more than 79,250 new cases during the week (June 13-19), up from 48,769 in the previous seven days, according to TOI's Covid database. It is the highest weekly total since February 21-27, when more than 86,000 cases were detected. Covid cases have increased over the past four weeks, but the past two weeks have seen an accelerated increase.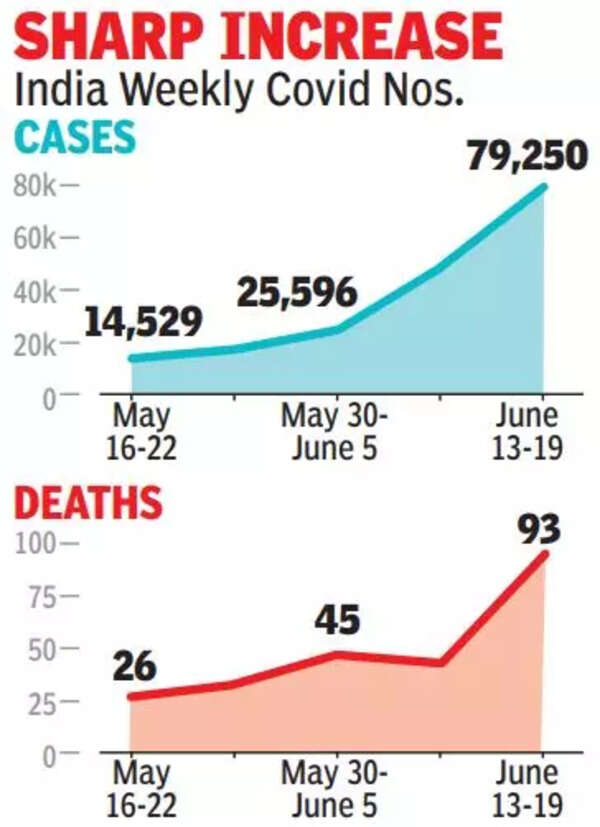 INSACOG (Indian SARS-CoV-2 Genomics Consortium) officials have been quoted by agencies as saying that the Omicron sublines, primarily BA.2 and BA.2.38, and BA.4 and BA.5 in parts of the country, were behind the current peak.
During this week, new cases have increased in almost every state and UT. The highest figures were reported in Maharashtra, where the weekly tally crossed the 25,000 mark (25,172), up 45% from 17,380 the previous week. Kerala reported a similar spike of 42%, with more than 20,500 new cases.
The surge intensified in cities across the NCR, with weekly numbers more than doubling. Delhi reported 9,291 cases, a 128% increase from last week's tally of 4,068, while Uttar Pradesh saw a 109% increase, reporting 2,711 infections. Haryana's tally rose by 94% from 2,029 to 3,936.
Among states that reported more than 1,000 new infections during the week, the largest percentage increase was seen in Tamil Nadu – up 169%, from 1,299 last week to 3,492 – and Bengal , where cases increased by 145%, from 663 to 1,621. In states where the numbers were still relatively low, Assam saw the number of cases increase by 4.8, Jharkhand by 2.5 and Chhattisgarh by 2.2.
The 93 new Covid deaths in the country during the week were the highest since March 21-27, when 98 fatalities were recorded. According to information from the state's Covid dashboard, Kerala has recorded over 40 deaths compared to 19 the previous week. Maharashtra reported 16 deaths, a sharp increase from four in the previous seven days, while Delhi's weekly toll rose from nine to 11. These figures do not include reconciled deaths from previous months.
Meanwhile, active cases in the country topped 75,000 on Sunday, up from nearly 48,000 last Sunday. The last time the number of active cases was above 75,000 was more than three months ago, on March 2, when the third wave of the pandemic was rapidly receding.


[ad_2]
You Can Read Also