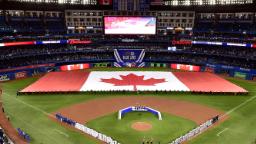 The Blue Jays' Toronto first home game at Rogers Center is July 30 against the Kansas City Royals. It will be their first game there since September 29, 2019.
The team played at its spring training base in Dunedin, Florida, and its AAA home in Buffalo, New York.
In a press release, the Blue Jays explained that Canada's federal government exemption "allows Major League Baseball games to be played at Rogers Center, with strong health and safety protocols in place." .
"First and foremost, the Blue Jays would like to thank Canadians for their unprecedented public health efforts and support to the team. Without you, Blue Jays baseball wouldn't come home this summer, "the team said in a statement.
"Additionally, the organization would like to thank the staff and players of the Blue Jays for their tireless efforts and dedication during a chapter in team history that has defined the franchise, and whose resilience does has never faltered despite immense challenges and times of uncertainty.
You Can Read Also