A U.S. Air Force crew on an evacuation flight from Kabul this week helped save hundreds of lives – and delivered a new one before landing safely on an airbase in the United States. coalition.
Flight nurse Captain Leslie Green of 375 Aeromedical Evacuation Squadron told Fox News on Wednesday that it was the first time she had helped deliver a baby.
"The hard part, she did it on her own," she said of the Afghan woman whose healthy newborn daughter arrived minutes before landing. "The baby was perfect. [She] was petite, a bit petite, certainly didn't complete her term, but came out crying – so she seemed to be doing well in this world. "
BABY GIRL BORN ON FLIGHT LEAVING AFGHANISTAN NAMED AFTER THE CALLSIGN OF AN AIRPLANE
While working on another patient who had passed out in the back of the plane, she said she was alerted to another issue up front in the washroom.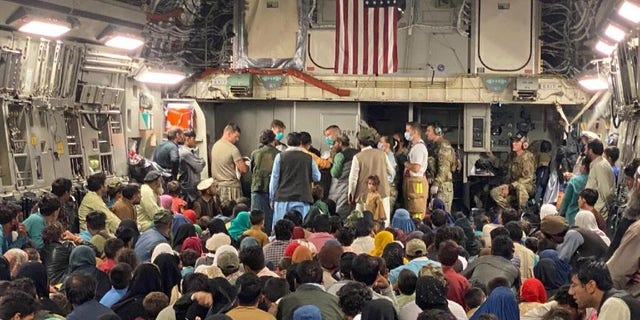 She said at first that it was clear the woman had a medical issue, but due to the language barrier and her gestures, they believed she was suffering from an upset stomach due to the pressure on her. the fuselage of the C-17.
AFGHAN ALLIES TRAPPED BEHIND THE TALIBAN LINES TURN TO UNOFFICIAL PRAYERS AND CHANNELS IN AUGUST. 31 THE DEADLINE IS APPROACHING
"I didn't know she was pregnant just because of the clothes," she said. "It's very hard to tell. She was completely covered from head to toe, couldn't even see her eyes."
But she and a loadmaster, the technical sergeant. Leah Schmidt soon realized that the woman was in labor.
"We didn't have a lot of supplies," Green said. "So we did the best we could."
This included using a thong from Schmidt's flight suit to tie up the umbilical cord. A member of the Air Force Ravens safety team lent his scissors to cut the cord – and the crew determined they had just given birth to a healthy baby girl.
"To be completely honest, it was unexpected," said Captain Dennis Conner, aircraft commander and C-17 pilot with the 701st Airlift Squadron, based at Joint Base Charleston. "But we got it [the crew] had a situation downstairs… Our initial thought was hey, what do you need us and what can we do? "
AT LEAST 3 BABIES BORN DURING EVACUATION EFFORTS IN AFGHANISTAN, OFFICIAL SAYS
The pilots, who were circling the airfield and waiting their turn to land, said they called the tower to report a medical emergency and request clearance to land and be greeted by an ambulance and paramedics.
"It was the smoothest landing I have ever seen Captain Conner make, so it was perfect," said Lt. Col. Wesley Adams, another 701st pilot.
"It was very fluid," admitted Schmidt. "We could hardly feel it."
Then, before the aircrew could escort the new mother and healthy baby girl to the first responders on the ground, they found a blanket to protect her from sight and maintain her modesty so they could escort her to the ground. through the crowd to the ground crew.
"It is beyond anything I've experienced in my 16 years doing this," Schmidt said.
The new mother walked down the stairs on her own, said Schmidt, where the medical team took her for further care.
"The only reason this mission was successful was because of the crew," said Captain Conner. "We have been flying together for so many years, and we have a few members who are not permanent with us, [including Green], but I've never seen a crew withstand a situation more than these guys and girls did. "
CLICK HERE TO GET THE FOX NEWS APP
The evacuation flight transported hundreds of people out of Kabul to safety, many of them children. They are among more than 80,000 people evacuated from the country since August 14, including more than 4,400 Americans. At least three other babies were born during the evacuation effort, according to US officials – all in Germany.
"I forgot who said it, but we took off with 270 kids and landed with 271," Lt. Col. Adams added. "It's pretty good to think about it again."
Teny Sahakian of Fox News contributed to this report.
You Can Read Also